A Step Above Vision Testing
Eye Exams
Our approach to eye exams encompasses whole health wellness. Our optometrists understand that good eye health not only contributes to better vision, it also plays a significant role in whole health. This is why healthcare professionals include annual eye exams in routine primary care schedules.
Eye exams allow optometrists to ascertain the sharpness of your vision and identify any potential harmful conditions.
Plaza Vision is focused on providing eye exams that go beyond simple eye readings and prescriptions. With every exam we desire to inform you of the health of your eyes and what can be done to improve it.
Sometimes underlying health conditions and medication can affect one's vision. It is important to not only identify these but to work with your other primary care physicians in improving your total health.
Consequently, Plaza Optometry makes efforts to go a step above nominal vision testing. Even if a patient does not have a need for glasses, eye exams can identify asymptomatic disorders that can lead to problems. Hence, everyone should get annual eye exams.
However, if you are having vision difficulties, scheduling an eye exam soon is critically important. Below are common sight problems that many have: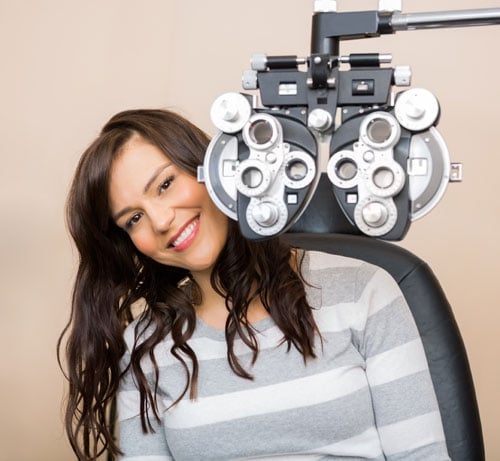 Double vision or seeing multiple images
Difficulty reading up close or afar
Difficulty performing work that require sharp up-close vision, such as sewing or drawing
Changes in how your eyes interpret colors
Trouble with night vision, especially in situation like night driving
Continual or rapid changes to your eyeglass prescription
Intense sensitivity to glares from light sources like the sun, moon, or light bulbs
Seeing halos surrounding light sources
Seeing a white spot or cloudy spot in the pupil (the pupil, instead of being black, appears milky or white)
Problems tracking object from the side (or even losing them in side vision)
Scheduling an eye exam is easy with Plaza Optometry. Simply call us today for an appointment. We accept ALL vision insurances including:
Aetna US Healthcare, Eye Med, Medi-Cal, Medical Eye Services, One Health, Safeguard, Vision Service Plan (VSP)
Our Brands