Plaza Vision Optometry Offers A Wide Variety Of Contact Lenses
Contact Lenses
The Plaza Vision Optometry team takes pride in designing and customizing modern contact lenses for patients of all types. Many patients that have formerly been told that they cannot use contacts have found that we have a contact solution that work very well for them!
Our team has decades of experience and we take eye safety very seriously. At the same time, we understand the tolerances of the latest materials that are used in new style contacts.
We offer a full range of contact types and styles including bifocal, daily wear, disposable, extended wear, monthly extended wear, rigid gas permeable, post-surgical types, silicone hydrogel, and toric lenses. Consequently, you can be sure that our eye team will be able fulfill your needs.
Plaza Vision Optometry has consistently help patients dealing with astigmatisms, chronically dry eyes, and reading difficulties. We customize lenses that not only improve vision but are also protect eyes from damage. Everyone's vision differs; therefore, every lens that we recommend to our patients are tailored to their specific needs.
Our staff considers each patient's eye health, visual needs and budget.
TOP REASONS TO USE CONTACT LENSES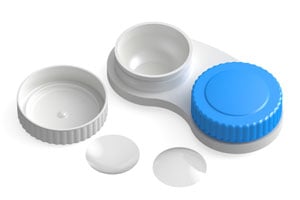 Contacts adhere to your natural field of vision because they move with your eye. There are no frames or limited angles that you can look through as with glasses.
Contact are subject to less dirt and grime because they are protected by your eyelids. You will not need to deal with issues like fogging up, rain droplets, or dust.
Contacts do not change your overall look like glasses do.
In most cases, contact provide better vision correction than glasses.
Are you interested in seeing what contacts can do for you? Then schedule an examination with us. Please be aware that contact lens examinations involve a longer first exam than glasses.
If you are found to be a good fit for one of the types of lenses available to you, our staff will provide you with thorough information about eye health and contact lens care. We look forward to your visit.